"Missing Children Page"
"Did you know, that if everyone who had a website, included this missing child information on it, what exposure these missing children could receive? Imagine it being your child, and having to fight so hard to get them back.
"*** The exception being Pornographic Sites,
which seem to advocate it more than abhore it***"


You never can tell what type of impact you may make
on another's life by your actions or lack of action.
Thank you Wendy for this graphic

We are each of us angels with only one wing
and can only fly embracing each other.
~ Luciano de Crescenzo ~


May 25th is National Missing Childrens' Day
Take the time to view posters, milk cartons, and banners
You CAN help...



Opal Jo Jennings needs your help


You will find current case files here:
America's Most Wanted

Please go here Missing Children & Parental Abduction
Sheri has put together a very important site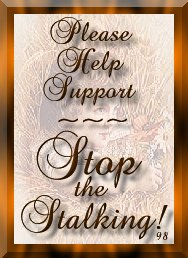 Also : for more information GO HERE
Please go see this site !
See what Marli is doing about Child Protection


Please Visit Pandora's Box
This is a "Most Important" site


THIS IS A VERY IMPORTANT REQUEST !
PLEASE HELP ! FIND SABRINA !
LOOK HERE
Also:
See this Sabrina Awareness site
Please see pictures
of progression in age HERE:


Polly Klaas Foundation
Created to fill the need for more concentrated efforts
in the support of missing children.

The National Center for Missing and Exploited Children
Child Being Held at Gunpoint by Terrorists