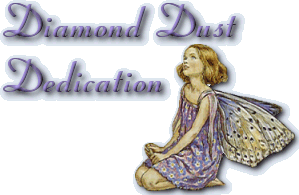 The glory of friendship is not the outstretched hand,
nor the kindly smile, nor the joy of companionship;
it is the spiritual inspiration that comes to one when
you discover that someone else believes in you
and is willing to trust you with a friendship.
~ Author ~
Ralph Waldo Emerson
---
---
---
Angel Friends
Our friends are like angels,
Who brighten our days.
In all kinds of wonderful,
Magical ways.
Their thoughtfulness comes,
As a gift from above.
And we feel we're surrounded,
By warm, caring love.

Like upside-down rainbows,
Their smiles bring the sun.
And they fill ho-hum moments,
With laughter and fun.

Friends are like angels,
Without any wings.
Blessing our lives,
With the most precious things.
~~ Author Unknown ~~
---
---
---

---
---
---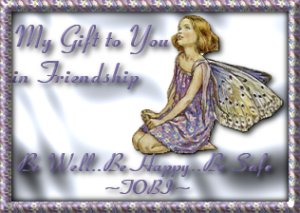 Please except my gift to you !

---
---
---
The Butterfly's Day

From cocoon forth a butterfly
As lady from her door
Emerged - a summer afternoon -
Repairing everywhere,

Without design, that I could trace,
Except to stray abroad
On miscellaneous enterprise
The clovers understood.

Her pretty parasol was seen
Contracting in a field
Where men made hay, then struggling hard
With an opposing cloud,

Where parties, phantom as herself,
To Nowhere seemed to go
In purposeless circumference,
As 't were a tropic show.

And notwithstanding bee that worked,
And flower that zealous blew,
This audience of idleness
Disdained them, from the sky,

Till sundown crept, a steady tide,
And men that made the hay,
And afternoon, and butterfly,
Extinguished in its sea.

Author
~ Emily Dickinson ~
---
---
---

Here is a listing of all my pages :
For those unable to use the above menu


Special Thanks To Becca

Faerie tube from JAZZL's

~ August 29, 2000 ~
All HTML was hand-coded.
No HTML editors were used.
Copyright © 2001 by TOBI
All Rights Reserved.